Divorce
Flat Fee Divorce Attorney & Flat Fee Custody Attorney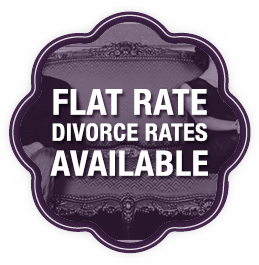 Divorce and Custody cases can become financially stressful for all involved. Legal fees are typically determined by the conduct of the parties and the level of disagreement in the case. Traditionally, firms charge a retainer and bill at an hourly rate. This makes the cost of representation uncertain and can result in high fees. Scott Law Offices offers flat fees as a solution to this oftentimes very expensive problem.
While a few law firms may charge a flat fee for uncontested divorce matters, Scott Law Offices has flat fee options for a variety of family law matters. Our fees are tailored to the client's specific goals and the complexity of the issues involved.
Contact Scott Law Offices for our flat fee divorce and flat fee custody options and for a free consultation to discuss your case.
At Scott Law Offices, we understand that every divorce carries with it a certain amount of stress.  When a marriage ends, emotions run high and those involved will likely experience a great sense of loss.  When served with a Petition for Dissolution of Marriage, commonly referred to as a divorce petition, one is faced with issues of property division, division of debts and the award of spousal maintenance or alimony.   It is important to understand your rights to protect your best interests.
At Scott Law Offices, our clients receive personal attention from an experienced Phoenix divorce attorney to meet their individual needs and to assist with the difficult sensitive issues involved.   We believe in setting realistic expectations and giving honest opinions throughout each case.
We know the uncertain outcome of court can be intimidating for those involved and our Phoenix divorce lawyers work with each individual client to assist in reaching a resolution of the divorce out of court.  We negotiate with the opposing party or their attorney in an attempt to reach a partial or full divorce settlement when possible.  However, we are prepared to pursue litigation to protect your interests and the interests of your family in the event that settlement is not an option.
Arizona is one of nine states with community property laws.  Our Phoenix family law office aids clients in understanding community property laws and in achieving an equitable division of the property and debts.  Our firm also works towards an award of spousal maintenance when appropriate and attorney's fees in situations where a party is maintaining unreasonable positions or there is a disparity in income.  We often request temporary orders for spousal maintenance, attorney's fees, use of the marital home and other temporary division of assets pending a final trial.
Scott Law Offices provides representation for Anthem divorce cases, Glendale divorce cases and divorce matters throughout the greater Phoenix area.  If you have been served with a divorce petition or are considering filing for Divorce, contact Scott Law Offices to schedule a free consultation.
Peoria Divorce Experts
Scott Law Offices is proud to be Peoria's leading expert in divorce law. It's no secret that divorce is a sensitive matter and can be a very emotional and stressful process, which is why we want to be there to help you every step of the way. At Scott Law, our clients are our number one priority. We understand everyone has a unique story, which is why we offer free initial consultations for new clients. Moving forward, each individual client receives one-on-one counsel from an experienced divorce attorney in efforts to assist and meet their needs. Divorce can be intimidating, but it doesn't have to be with the right people on your side. For more information from the experts about divorce in Peoria, call us today to set up your free initial consultation.

"Life can be full of surprises and although I never thought that I would need an attorney I am so thankful that I found Christina. From my experience legal issues are very stressful and mine seemed to quickly consume my life and emotions. Christina was professional, responsive and almost always available or returned my calls quickly. This was one of the best comforts that I had, knowing that she would always call me right back. She was amazing every step of the way, I felt confident in the outcome which was positive beyond my expectations. I highly recommend and although I hope I will not need to utilize her services in the future, if I did I would only have Christina Scott represent me." – CA